After my blog post in August on Pakistan's flood crisis, you responded. Six of my friends back in the U.S. wrote in to ask how they could help. There are tons of great relief organizations working in the area of course, but my friends were looking to do something a little more "hands on."
Enter our grand plan: collect some funds, gather supplies, and get the stuff driven to the flood relief areas ourselves to deliver items by hand to families there. A wee bit more ambitious, but totally do-able with the support of a few friends stateside, a rented car, and my energetic house guy who took three days off from managing my life in Islamabad to launch operation flood relief.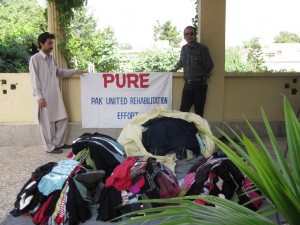 The flood-affected families have been receiving a lot of food and water, thanks to the aforementioned flood relief organizations, but it's starting to get cold in Pakistan (yes, it gets surprisingly cold here) and warm clothes are an unmet concern for people who have lost everything. So we concentrated on getting as many fluffy sweaters, comfy sweatshirts, and woolly pants in the hands of people who would be needing them soon.
Our stash looked pretty good before send-off, in Islamabad, complete with (subtly American color-coded) sign. Coming Next: Part II, Handing Out the Clothes. Thank you, everyone who pitched in!!