The Castle still stands.
Its continued presence in our lives defies all logic, makes a mockery of prediction, reminds us each and every day with its rainbow-hued mass of the impossibility of full knowledge and the futility of control. 
I was sure the delivery man was coming to pick it up today. The reason is simple: today was the first day that I made a plan with the Jumpy Castle in mind. (Please note the capitalization now, out of respect. The Jumpy Castle has become an entity, a fixture: not simply an inflatable vinyl bag shaped like a house but an important, abiding part of our lives.) 
Until today I didn't want to make any assumptions. For each of the 22 days of Jumpy Castle Jackpot that we have enjoyed before this one, I counted no chickens and made no playdates. If neighborhood kids caught a glimpse of bobbing on the other side of our fence and wanted to partake, they were welcome to join the party, chosen children blessed by the bouncy house. The gates were opened for a jumpy house free-for-all while my daughter's wardrobe was tapped to lend out an assortment of old bathing suits and cotton t-shirts to clothe the masses while they splashed. But I made no arrangements.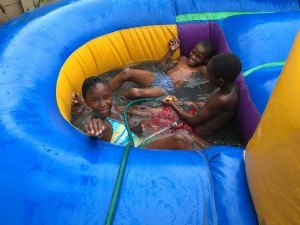 Today I strayed from the plan and made a plan. I told my friend Julie that her kids should come over to play on the Jumpy Castle since it was still on the premises. After a month away for the holidays in a cold climate, Julie's kids were ready for some sunshine and hijinks with the hose (which is, inexplicably, called a "pipe" here). I made the invitation in advance, rejecting spontaneity, tempting fate, and exposing us all to the hubris of expectation. 
When I got home from work at lunch, I made a beeline for the front yard, breath caught, expecting to find nothing but barren ground, just lawn instead of a child's inflatable wonderland. But there it was, the familiar sodden heap, blue and yellow and green vinyl waiting in the sun for the next go-round. The kids jumped and played and screamed on the bouncy house all afternoon, just like kids have every afternoon in our yard since December 23, 2015. 
That's right, December 23. 
Consider for a moment that events that have transpired since the Jumpy Castle first arrived at our house, for what I thought would be a 24-hour rental period. 
Christmas Day was celebrated by billions of people all over the globe. 

Boxing Day was celebrated by a much smaller number of people. 

Millions of people went out on New Year's Eve, drank champagne, and made resolutions that have already been broken.

Star Wars hit 1.6 billion at the box office.

The Vikings, Bengals, Texans, and Redskins were eliminated from the NFL playoffs. 

David Bowie died, and released a new album.  

Obama gave his last State of the Union address.

8.1 million babies were born. 
Perhaps you're wondering if by now something official should be done. For example, something involving a call to the Jumpy Castle rental place inquiring about its fate and asking whether anyone remembers that it was left here. My philosophy is why look a gift house in the mouth. 
It hasn't been all roses. The load on our electricity bill, what with the blowing motor eating up kilowatts, will be real, and the water bill will be even worse since every spurt of the hose is costly in these drought-stricken times. 
And we'll certainly know it was here, even after it's gone. Our yard is now a wasteland of dead grass and dust patchworking with lush, vibrant circles where water has slopped out of the castle's small pool for the last three weeks. Accidental landscaping at its worst. 
It's all been worth it. 2016 has already seen its fair share of calamity around the world: tragedy and problems do not leave the new year alone for long. But in this house, in our corner of the universe, 2016 has already started with a bounce, in what will be known forever as the Year of the Jumpy Castle. Come on by and take a jump! Today might be the last day.