We are back in Botswana after two glorious months in Cape Town, and I will admit that it is a mixed bag. While we were away, I missed:
Our friends
Our big house (the rental in Cape Town was a bit of a squeeze)
How safe and quiet Botswana is (Sure, there are home invasions, but they are rarely violent.)
I did not miss:
Slow-as-molasses internet
All the shopping malls with their identical chain stores
The hot, humid soup that greets you when you open the door
Things are even stranger now that it is Christmastime and the town has emptied out. Last Friday was a frenzy at every ATM and shop–thousands of people buying last minute gifts before heading out of the city. Gaborone is a bit like Washington DC: almost no one is really "from" here, so the holidays see a mass exodus in which everyone goes to their home villages to celebrate with family.
I will be with family too, but ours is a small unit of four and we will not be staying up until 3am eating chicken and pap and dancing outside to loud music. This traditional way sounds more fun, but we have an infant after all, and the 3am parties he invites me to nightly are about all the excitement I can take right now.
How do you celebrate Christmas overseas? There are no pine trees on this entire continent, so the first order of business is to pluck your scrawny artificial tree out of storage and deck it with any ornaments that weren't smashed during the 3-month journey of all your belongings by sea freight when you moved to Africa. Whichever ornaments made it will most likely be decimated in the coming days by your overzealous preschooler so don't celebrate just yet.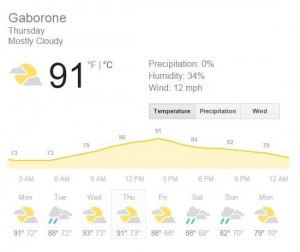 Next, think about the Christmas feast. Nothing gets you in the mood for steaming turkey, hot mashed potatoes and heavy stuffing faster than the 90 degree weather outside, but it is your duty to soldier on anyway and do a spread of typical holiday eats, ideally with the air conditioners on full blast. There will be some substitutions. The sweet potatoes will be white and you will have to boil the ham yourself for three hours before roasting it since "gammon" is sold completely raw in the stores. A turkey will set you back $60 as they are a specialty item and the local Woolworths knows that expats pining for their home countries at the holidays are an easy mark and will pay a premium for tradition. Fresh cranberries are a pipe dream and if you want a piecrust you will have to make it yourself, lazybones. But it all can be done, and you will do it, for the sake of the children if nothing else.
Speaking of the children, it's time to talk presents. Gaborone is chock full of malls as I've mentioned, and each of them has a large chain store carrying all manner of Chinese-made crap masquerading as toys. Go ahead and buy these toys, which will entertain your kids for three or four days before breaking apart into tiny plastic pieces to roll around the corners of your house for the next two years that you will step on, pick up, and be afraid to throw away in case they are mysterious crucial linchpins to a piece of vital household equipment. Another option is to visit one of the boutique "educational" imported toy outlets in town. Here you can buy Melissa & Doug paint sets and wooden puzzles at a 200% mark-up and pray that your children will find them sufficiently interesting to justify the withdrawal you took out of their college fund to pay for them. The other idea is to stock up on good toys while you are still in Cape Town and then haul them home stealthily in the trunk to be wrapped and ready for Christmas in Botswana. Luckily this year we were in a position to execute Option #3, which is why Lila is about to be gifted with a truly egregious amount of Lego Duplo box sets, including the Cinderella castle and something about a farm stand.
The malls are playing Christmas music and there is a (too skinny) bearded Santa at Game City for photo opportunities. But the electric fences around all the houses in Gaborone get in the way of putting up lights, and there is no use in putting out cookies for Santa on Christmas Eve without inviting the image of poor St. Nick electrocuting himself while vaulting over the fence en route to your (purely decorative) chimney. Christmas Day will probably see your whole family jumping in the pool to survive the weather, and the only garlands in the house will be damp, discarded bathing suits strewn over chairbacks and bannisters. The smell of sunscreen will replace simmering cider, and holiday revelers will be stuffing their faces with watermelon during the customary showing of The Grinch Who Stole Christmas instead of hot chocolate with marshmallows.
But it will all work somehow, and new traditions will be made, and one day my daughter will be taken aback to see snow on Christmas Day rather than the usual pool party to which she is accustomed. At any rate, it is important to stay positive. Because if you don't, bad things may happen.
Last night I made the mistake of posting a snarky Facebook status complaining about all the mosquitos in the house and how our internet seemed even slower than usual (it took me five minutes to load a recipe for Red Wine Sangria, aka sanity punch). Not 24 hours later, the gods of Moving Overseas Cheerfully retaliated by killing the electricity to our entire neighborhood. On Christmas Eve. At 6pm. Right as Lila and I were all set to roll out our Christmas cookies.
So the real answer to the question "How do you spend Christmas in Botswana?" turns out to be:
At the Lansmore–a hotel down the street that has, it must be said, very cold air conditioning, lightning fast internet, and nary a mosquito in sight. We've taken two adjoining rooms after hastily packing essentials in the dark and explaining to Lila that there will be no Christmas cookies tonight, but room service has ice cream. Merry Christmas to all, and to all a Good Night!