Okay, I'll say it: I've gotten lazy. After I was asked in May to be a contributor to the Wall Street Journal's expat blog (I'm doing a "Ten Things" about living overseas feature for them), I let my normal blogging here at Outlandish slip. My full time job, 10-month-old baby, preschooler, life maintenance, and travel schedule of four countries in the last three months may also have had something to do with it but no excuses, dear readers!
So here I am, back after a whirlwind winter of travel in both hemispheres, relieved that I have no plans to be on an airplane until 2016 and have nothing but the normal business of making a life for myself and my family in Botswana to take up my time.
To say hello again, I'm plunging right in with a questionnaire given to me by Tara over at Mama Mgeni, who kindly nominated me for a Sisterhood of the World Bloggers Award.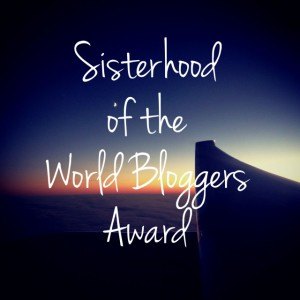 First I have to answer Tara's questions and then ask ten questions of my own while nominating ten other travel bloggers.
My first thought was, I'm an expat, not a travel blogger! Most of the time I stay very much at home here in Gaborone. But then I remembered the four countries in three months thing and I also remembered that I love questionnaires and used to answer them as a procrastinating device in grad school when I was supposed to be sifting through obscure James Joyce journal articles. So in the end it was an easy sell. Here goes.
1. What are the top three destinations or experiences on your wish list?
I want to visit the Maldives before it sinks into the ocean. I want to go to Machu Picchu. And I want to take my kids on a train-only tour through Europe when they're a little older.
2. What is the most memorable food you've had while traveling?
I suppose here I should say something unnerving like mopane worms or cow's liver wrapped in fat but really my most memorable food was something delicious that I actually enjoyed eating: a glorious bowl of sweet potato curry in Thailand at a two-table restaurant on the island of Koh Phangan.
3. When you are not traveling and blogging you are… 
Working! And raising two kids.
4. Is there anywhere you would never, ever, in a million years return to?
I did not enjoy my weekend in Kabul. I would go back there if there was a really really good reason, but otherwise Afghanistan isn't currently on my list of top destinations.
5. What do you enjoy most in other people's blogs?
Writing about food. I am a sucker for food blogs and can waste many an hour just reading recipes and looking at photos of all the ingredients chopped up and then going in the pan, and then all stirred up, and then once they've been cooked, etc., etc. Why is that all so appealing??
6. What type of carry-on luggage do you have and what's in it?
My husband got me turned on to Tumi, which isn't cheap but is totally worth it in the long run because it lasts forever. We have a rolling carry-on from Tumi that has served us well as a mobile childcare unit, packed with everything from diapers to white noise to changes of clothes, books, games, toys, food, socks, you name it.
7. What's the first thing you do when you get to a new destination?
Make sure I have the right adaptor to fit the plugs. There's no need to go scouring the town for the proper adaptor after your phone and computer are already drained of battery life.
8. What inspired you to start traveling?
My parents. I went on my first international trip (to Greece) when I was a two, spent my fifth birthday in Italy, and lived for England one summer when I was ten. They showed me that traveling could be easy and fun, even on a budget and even with kids.
9. How did you come up with your blog's name?
An ex-girlfriend of a friend actually came up with it, and for that I am forever grateful.
10. What do you never leave home without?
My organic, petroleum-free, essential-oil scented chapstick, especially during our bone-dry Botswana winters. My current favorite is Badger's Vanilla Madagascar, which is luscious.
Now here are my ten questions and the ten women travel bloggers I nominate!
1. If you had to choose, would you rather relinquish your passport forever or lose one of your pinky toes?
2. Who is your best traveling companion?
3. Have you ever had a run-in with law enforcement in a foreign country? Details, please, if so.
4. What city do you think is over-rated?
5. What's the most beautiful beach you've ever seen?
6. Have you ever had a first kiss in a foreign country?
7. Have you mastered a local recipe from any of your destinations and if so, which one?
8. If you could choose to be a citizen of any other country, which one would it be?
9. What has been your most popular blog post?
10. Train, plane, or automobile?
Amy from Belonging Matters
Amanda from Resourceful Rubies
Kristen from Camels & Chocolate
Dawn from the Incidental Tourist
Ishay from Food & the Fabulous
Veronica from Mother City Magic
Jessica from Enough Dumplings
Christine from Almost Fearless
Lauren from Never Ending Footsteps
Marysia from My Travel Affairs