Sometimes I think living overseas, especially in a post with lots of American expats, is just one long camp or party or freshman dorm orientation week or whatever the analogy is for a bunch of adults planning specific, orchestrated types of fun that one usually associates with children.
Of course I contribute mightily to that event calendar myself with the various holiday-themed and random activities I host for the neighborhood. I don't really remember what it is like to live in America where you don't automatically have access to a whole group of the same 40 people who rotate doing fun things on the weekends and you always have two or three invitations each week to a party or barbecue or karaoke night or other super relaxing shindig. I actually participated in a beer pong tournament last month, complete with regulation-size tables, laminated tournament brackets, and a food truck serving bratwurst for the crowd. This isn't normal, right?
It may not be normal but I like it.
My own contribution to expat Disneyland this month was to jump on the bandwagon of Girl Scout Cookie and Wine Pairings. Apparently this is now a thing in America, which means it's probably been a thing for about four years and I am just hearing about it now. (Expat time lag.) It makes perfect sense though: I imagine moms are often the ones stuck holding the bag, so to speak, of unsold cookies and snacking on leftover boxes when they have their nightly glass(es) of wine to relax. Naturally that would lead to some opinions about which cookies match up best.
In fact, the popular Vivino wine app produced a guide to help you figure it out, and there are many websites, both enthusiastic and cynical, with folks doing the dirty work of trying it for themselves and reporting back. Thanks to a friend back in the U.S. who thoughtfully sent me a care package stocked with boxes of Girl Scout Cookies in different varieties (thank you Karin!!), I had all the raw material I needed to pull off our own Girl Scout Wine Pairing Extravaganza, southern Africa style. I diligently did my research, invited a few friends to be guinea pigs, and hit the streets of Gaborone to see which bottles of wine from the list I could turn up.
The pickings were slim. Madeira was recommended as a wine pairing by more than one site, but I couldn't find a single bottle in any of the liquor stores I tried. Ditto for a California Zinfandel, Sauternes, or Zweigelt. But I'm in Botswana after all, so none of this was a huge surprise and I was prepared with back-ups. I easily snagged a merlot and a cabernet of course, and even found a bottle of port that was recommended to accompany those coconut-caramel wheels of wonder–Samoas. I may not have found all the wines, but the bottles I did buy all rang up at under ten bucks a pop, reminding me of another reason why it is awesome to live here. One friend brought a pinot noir while another friend showed up with a crisp white: not for any pairings, but to swish out our mouths and recover in case any of the combinations were particularly vile.
Then we were off to the races. Surprise! Only women showed up for the tasting, to which I can only say: Men, you missed out.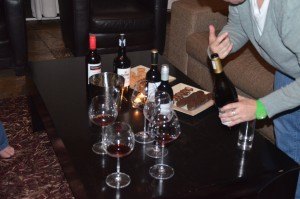 Our first challenge was the hardest: find a wine to go with Thin Mints. Tasters on the internet had compared wine pairings with this most famous of cookie to "peppermint mouthwash hell" and "toothpaste Armageddon." (I'm exaggerating only slightly.) We couldn't exactly disagree so moved on quickly.
The next cookie–of the peanut buttery goodness variety–was my favorite in real life, Tagalongs. I think you could pair these with Nyquil and they would still taste pretty good. We found they went well with the Pinot Noir, another one of my favorite things, so that makes sense. Some of us stole seconds. And thirds.
Samoas, our third cookie in line, polarized the crowd, which seemed to be evenly divided between coconut lovers and haters. This cookie also brought us to our most ambitious pairing: a sweet dessert port that I poured out in my grandma's tiny crystal glasses with the gilt edging. I have been waiting literally for years for a reason to use those. I hope she would have been proud that the occasion, when it finally occurred, involved cookies.
This is where things got interesting. It turns out that the port wine, so teeth-rattling sweet it was almost unbearable to drink on its own, made the equally saccharine Samoas palatable to at least one former Samoa hater in our midst! Look out how wine brings everyone together.
Do-si-dos rounded out our tasting platter, but these unambitious oatmeal bites would pair better with something equally timid, like warm milk. The Cabernet turned its bold nose up at the idea and suggested we just enjoy the rest of the bottle without cookies (southern African Cabs are unusually articulate, you might not know).
Would our time have been better spent organizing a book club, discussing pertinent political issues, or in some other way trying to save the world? Sure, but those are the kinds of things adults do, and here in Gabs we like to take a break from all of that now and then.