The Peep People would be wise not to let everything hang on the success of their holiday peep contingent. And: they haven't. Instead they have launched a massive campaign to make Peeps an integral part of your dining and entertaining life. If you thought Peeps were just for eating out of hand, think again!! Peep pushers will tell you differently, encouraging you to start slow with a simple switch in your morning routine from biscotti to bunny. Next, you might consider Peep Dips for your upcoming sophisticated cocktail party or book club. It's the new fondue! No, wait, this is. Peep Pops could make charming baby shower favors that would (bonus) survive a nuclear winter. Maybe you need an elegant addition to your in-laws' Easter dinner? Don't bring ham, bring Peep!
I almost don't even have anything to say about the Tree of Peep. Just that if you meet your boyfriend's mother for the first time and she serves this, walk away quickly. And quietly, as if your feet are the feet of a lithe little bunny made out of soft marshmallow in a shade of purple. Let's take a moment out of our Peep tour to pity the frustrated, out-of-work sous chef who paid that month's rent devising ever crueler and more unsettling manipulations of Peep product. I think his inspiration finally ran out on this one: evidence of a mass peep-in-your-pants accident.
This is not the end of our trip down the rabbit hole. After the officially-endorsed Peep offerings come the unauthorized biographies, in which Peep-lovers have taken their passion and turned it into art. Not for kids, this one:
Eschewing bloody theatrics for a more subtle violence, I think
Cannibal Peeps
speaks for itself: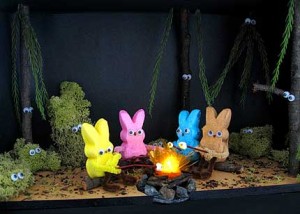 Showing you can be clever with words and with marshmallows, I move us along to Peep Show: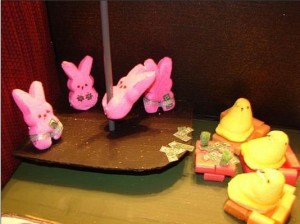 And not to be outdone in the pun department is
Peep Showdown
, a sort of sugary West Side Story
: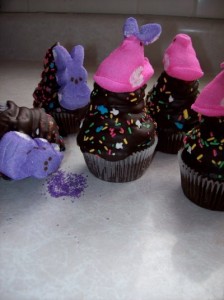 Finally, there is Peep Art for
Star Trek
aficionados, which, through the masterful layering of geek onto different kind of geek, gets us someplace truly special.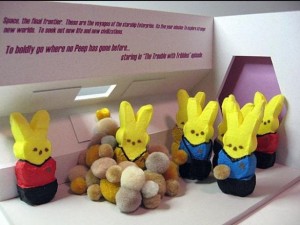 Like I said, my going-away party was last night. There was eating, there was drinking, there was dancing, there was singing. There was flying candy and a surprisingly competitive egg hunt. Just about the only thing we didn't get going was a rousing round of Chubby Bunny, which would lead us into a whole other category: Games with Peeps, had we only the time. (For the curious, Chubby Bunny is a Peep-centric party game with an extremely high vomit-quotient.) Did I mention you can also get Peeps sugar-free? Oh, the fascinating facts just go on and on.
What do Peeps have to do with Pakistan? Nothing, except that weird food is in the eye of the beholder, I guess. And also that I don't want to think about how much I hate to say goodbye, how wonderful my people in Boston are, how much I will miss them. So I'm spending some serious time tonight thinking about Peeps instead, and wondering how they got those little pasties on the bunnies.