It was my birthday this week. The last birthday of my 30s, a golden decade that in retrospect seems to have passed in the blink of an eye. At the beginning of the decade I was living in Boston, working on my dissertation, teaching undergrads and watching every single Red Sox game. Since then I've lived in two different countries, moved back to California for a year, gotten divorced and re-married, had a baby and started working on a second. It's safe to say my life is different in almost every way.
But some things stay exactly the same through the years. I don't feel like it is properly my birthday unless there is a cake with candles to blow out. I love hearing birthday wishes from friends all over the world–though now they come through the magic of Facebook instead of phone calls, rolling in as different time zones come online. I like to look at the clock exactly when I was born, so I know just when I turn the next age. And I make sure to soak in all the special treats and splurges that make it feel like a birthday, even if it's just a Tuesday.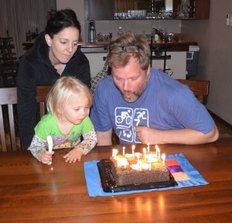 Birthdays in Botswana include a lot of fanfare for children, but adult birthdays seem to pass more quietly. For kids, a huge birthday party is de rigueur, and the hiring of a large colorful "jumpy castle" is a requirement. For Lila's second birthday last October, we had 56 people over to the house and enough pizza that I was giving whole pizzas away as farewell party favors (I may have over-ordered).
The "Happy Birthday" song is the same here, but in Botswana a second verse is added to the same tune :
How old are you now?
How old are you now?
How old are you now….how old are you now?
It's considered rude here to ask anyone who might possibly be older than you their age, so this is a cute way to sneak the question in anyway. The median age in Botswana is 22, and 32% of the population is under the age of 14, making the likely answer to this question "younger than you are." Life expectancy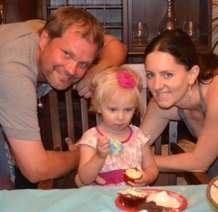 is only around 60 (partly due to the high HIV infection rate), making me and my almost-40 years veering dangerously near to the geriatric segment of the country.
My office colleagues surprised me on Tuesday with the happy birthday song and two fluffy cakes from Pick 'n Pay in the conference room, dragging me up there on the ruse of "paperwork to sign." A good fake surprised face is of universal usefulness no matter what country you are in. They also ended the song in the customary Botswana way, with a few shouted rounds of "Hip, hip, HOORAY!" in my honor, which feels like you are a triumphant returning soldier or someone who has just won a scholarship to Oxford University in a 1930s movie. All the fanfare is nice, but it does make for a lot of singing, and the burning candles get pretty darn low before it's all said and done.
Like many places in the world, on your birthday in Botswana it is your responsibility to pay for your guests if you go out to celebrate. Many an American overseas has been tripped up by this custom over the years. A good friend of mine during her first overseas post in Bosnia invited a huge tableful of local colleagues out on her birthday and ignored the bill when it came: a very normal thing to do in the U.S. It wasn't until months later that someone told her awkwardly that everyone at the table had expected her to pick up the check and had gamely rustled up the cash themselves when they realized this wasn't going to happen. It's the same here: if you invite a crowd to celebrate with you on the big day, you are responsible for supplies, even if it is just "beef and beer" as a friend here said.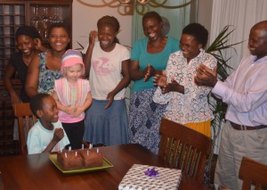 Another tradition for Botswana birthdays is to smear the face of the birthday boy or girl with frosting when they're not looking and then run away: a sort of sneak attack with sugar. Sadly I have never encountered this tradition in person: everyone at work is too professional to cut loose whenever there is an office birthday. I was curious why no one did it at Lila's birthday last year (although you can see by the top photo that she does a pretty good job covering her own face with frosting when given the opportunity). When I asked my colleague Thapelo why I have never seen this tradition actually happen in person, he replied "They're afraid to smear the white kid." So there you have it: our minority status strikes again, and this time sprinkles are involved.